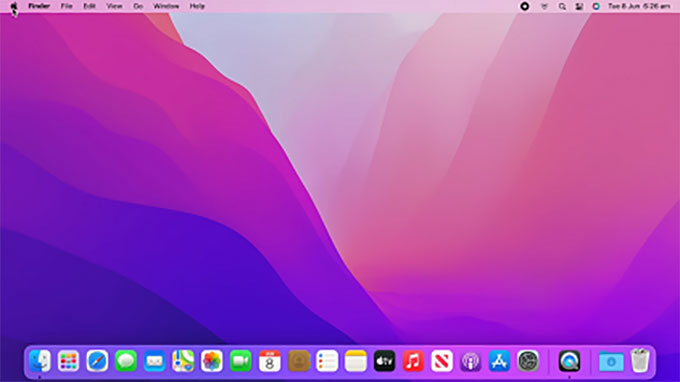 A new version of macOS 12 was released, called Monterey. The developer beta is now available. You can install to experience macOS Monterey 12 Beta. However, this is still a very early version, with a lot of bugs and functional imperfection. If you want to try something new, make sure you backup your current macOS version at first. Next, let's talk about what new things that macOS Monterey carries out.
New wallpaper:
When you get the macOS Monterey installed, the first thing you see is the change of the user login interface; a new system wallpaper and a little bigger users' avatar. However, there are not any other more changes.
When you go into the desktop, the entire refreshing wallpaper presents in front of you and it is a little bit different. Open the wallpaper Settings, except for the new light and dark wallpaper, there are also four flower-themed image wallpapers and four colorful shape image wallpapers.
Customized Memoji can be used as a login avatar:
The new macOS Monterey version allows users to set a special Memoji or emoji as a user's login avatar, which is much better than the original default avatar. And you can set an animated Memoji as your login avatar.
Control center:
The control center's original "Do Not Disturb" mode changed to "Focus." Click on it and there's the original Do Not Disturb mode. Users can also customize new modes, such as reading, playing games, writing code, and so on according to their specific needs. If you turned on the Mac's camera and microphone, there small yellow dots will appear next to the Control Center icon, which you can tap to see which app is using the camera and microphone.
Notification center:
Notification center message card becomes much rounder corners, keep consistent with the rounded corners of small widgets.
Safari:
The Safari interface has changed a lot, the top search box toolbar and tab page are placed on one line, the tools in the upper right corner are now on the right side of the search box, which makes the whole interface looks a lot cleaner.
The new Safari supports the function of TAB groups. This means that you can save the currently tab pages as a tab group, or create an empty group of tabs and open some tabs to save. Next time, you directly click on a TAB group and all tabs in it will be opened immediately.
Memo:
Memos have become more practical. You can add a # tag to locate your notes quickly. If you're one of those people who have used Bear, then you must have been familiar with the function. Besides that, the co-edited memos also allow you to see who changed what and when. Just move the mouse cursor to the bottom right corner of the desktop window to display a quick memo, then you can quickly note down something, or drag and drop an image, web page, and so on to a quick memo.
Universal control
macOS Monterey introduce a powerful feature called Universal control, aims at helping Mac users get more things done and maximize productivity for work, home and entertainment. It is an all-new method to accomplish more tasks, stay connected, work across all Apple devices and more.
Overall, the macOS Monterey developer beta has little change in interface style from the macOS 11. And the new version macOS 12 still has some functions to be stabilized and improved. If you're not a developer, it is not recommended you update to the macOS Monterey 12 Beta right now. However, if you want to experience the beta, it is better back up current macOS at first in case you want to get it back.