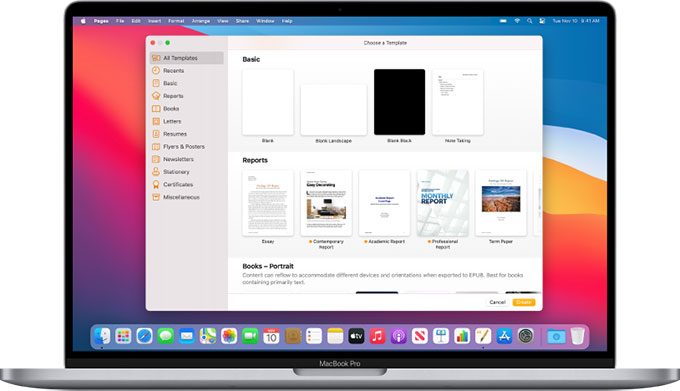 Whether you are looking to know more about Mac Pages for work, write creatively as a hobby, school or write the next awesome novel, here is a right place where you can discover secrets to get you up to speed fast. And it does assume that you have a Mac computer besides you. We will get how to be familiar with the Apple's world processor software.
Mac Pages Overview:
Pages for Mac is a purpose-built application that aims at providing great functions and features to help Mac users create gorgeous documents in no time. The Pages refers to the so-called Mac word processor, brings out a variety of the design templates so that users can create their own expected reports, books, resumes, posters and other more things with ease. Even more, Pages also allows users to design their own style of pages for both working and amateur creative needs.
How to Use Mac Pages Like a Professional?
Regarding to the question how you can use Mac pages like a professional, we suggest you at least know all the basics needed to succeed in creating Pages though the Apple's word processor, like how to create basic word-processing document, how to layout your documents, and more.
How to create a document:
Step 1: Click Finder > open Applications folder > locate at Pages and open it.
Step 2: If this is the first time you use Pages, click New Document in the bottom-left corner of the dialog.
Step 3: From the Basic category, double click a blank template you want.
Step 4: Start typing. Once you reach the end of the page, this new page will be added automatically.
Step 5: Click File > click Save. Enter the name you want into the Save As field. And then click Save.
Till now, you have created a page as your needs.
How to create a template:
If you are willing to know how to create a template or use a page layout document you want, here is the guide. Before you start, you'd better know which type of document you need, like reports, letters, newsletters, books, posters, and more. It has been classified into two categories including both word-processing and page layout types. According your needs, choose the type that is right for your work or spare-time hobbies. For the answer to create a template, refer to the steps as:
Step 1: Click Finder > click Applications folder > click Pages > click the New Document button in the dialog, or choose File > New from the Pages menu at the top of the screen.
Step 2: Choose a template for the document you would like to create > Double-click the target template to open it.
Please note: You can create a mainly text document, a more complex layout document, or a book template, choose the type you need.