If you want to uninstall Jamf Pro and remove remnants, then this guide is for you! It gives you a full understanding of two methods and all steps you need to get rid of unwanted apps on a Mac. When you are done with the guide, you will have known everything you need to remove a Mac app. I am excited to share the methods with you.
Join me on this guide to uninstall Jamf Pro or other Mac apps.

Jamf Pro Overview
Jamf Pro is high-performance application that is able to integrate with many systems and tools, and aims at helping IT pros manage, protect, and get the most out of all their devices from anywhere. Jamf Pro is available for nearly all Windows and Apple devices, so you won't be worried about if you can use it no matter when you are at work or in the classroom. If you desire getting more help regarding unified endpoint management for your Mac, Jamf Pro can cater your needs.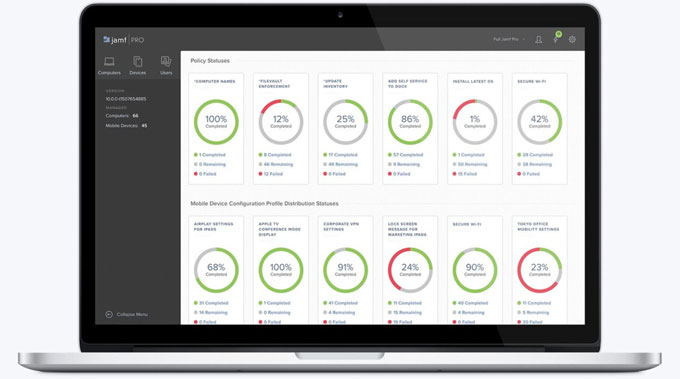 Jamf Pro will make it perfect to use your Mac. It allows you deploy your Mac without any need of touching, and you can also utilize some hands-on approaches to get your Mac well deployed. Jamf Pro also brings out great Appl device management, it not merely allows you to troubleshoot your Mac but also keep it up-to-date and secure, so that make sure you or your users enjoy awesome IT service. Along with that, Jamf Pro increase many more conveniences in app management. You can take much less time in setting up pre-configured apps and getting what apps you wanted from App Store to your Mac remotely.
Jamf Pro delivers users with great IT inventory management, which can collect all data on your Mac in automatic. Whether it is for user, hardware, software or other security device data, Jamf Pro has the capabilities to organize all information and export them as reports. Once gotten all your Mac data, you can keep tracking of all your inventory like a breeze. Furthermore, you can also use Jamf Pro to maximize native security on your Mac.
Tips: If you can't use Jamf Pro server on your Mac normally, we suggest you uninstall and reinstall it to troubleshoot. As to how to uninstall Jamf Pro for Mac, continue reading to figure it out.
Methods Uninstall Jamf Pro on Your Mac
When we use the Jamf Pro service online, we might have installed both Jamf Pro server and Self Service on our Mac. If so, you need to remove both of them to accomplish a complete removal. For now, we will take the Self Service uninstall for example to help you know how to uninstall an app from your Mac. And you can follow the same steps to get rid of Jamf Pro server or other Jamf products for Mac.
Method 1: Remove Jamf Pro Self Service in Manual Way
Step 1: Quit the Jamf Pro app on your Mac. Follow the steps as:
 Click Finder > double-click Applications folder > double-click Utilities folder > double-click Activity Monitor.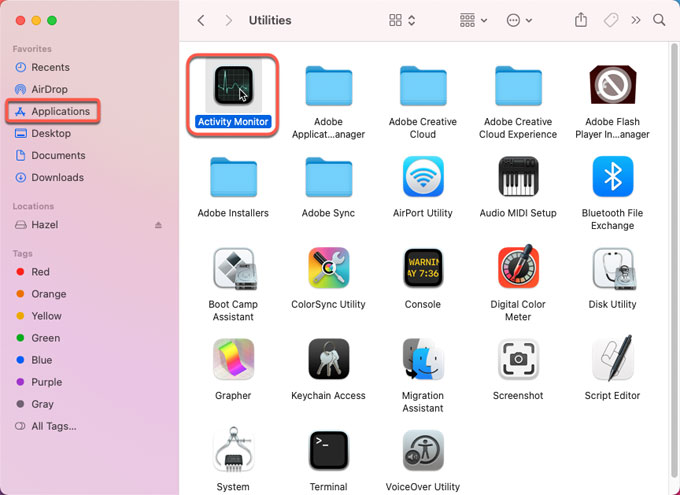 When you go into Activity Monitor, in the CPU tab highlight the Jamf Pro Self Service app > click X button > click Quit or Force Quit to close the application.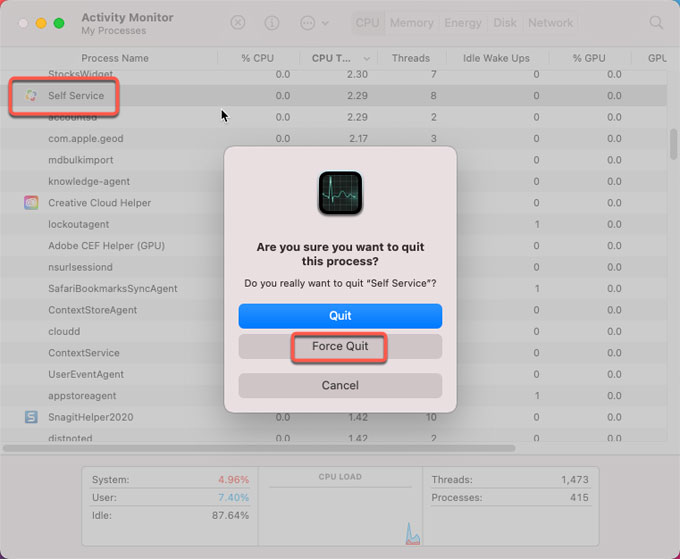 Step 2: Click Finder click Applications folder or the location where the Jamf Pro Self Service app is located in > select & right-click the Jamf Pro Self Service app > choose the Move to Trash option from the pop-up menu.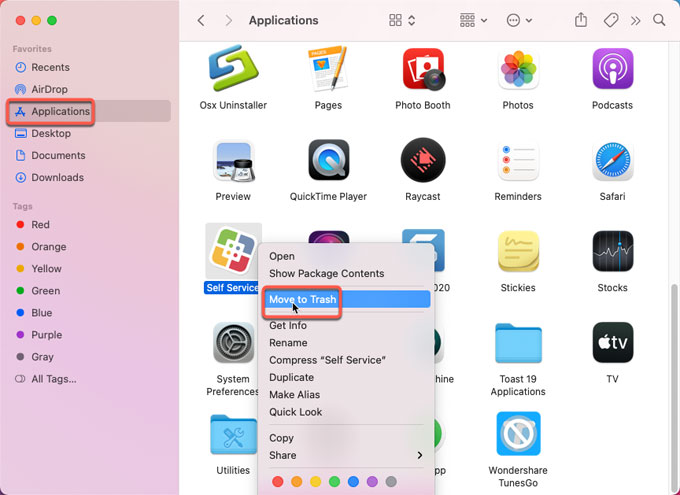 Step 3: Open Finder > click Go > click Go to folder… > enter the Jamf Pro pathname > click Go. Find and delete the files associated with the Jamf Pro app from the following sub-folders.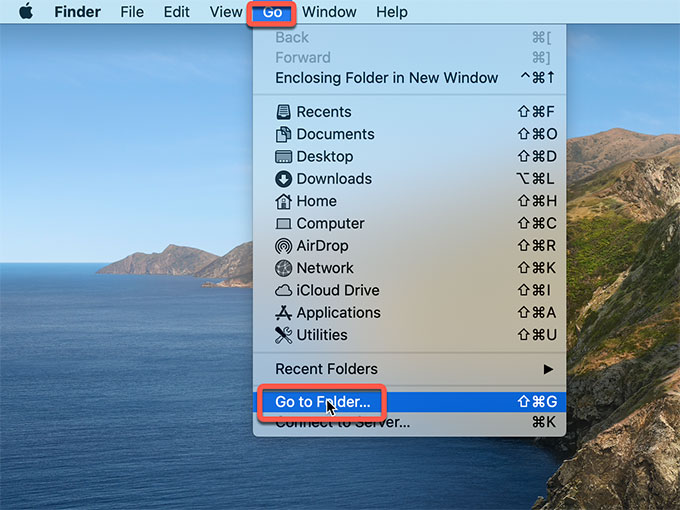 Go to the below paths and delete files named as or started with Jamf Pro.
~/Library/Application Support/
~/Library/Caches/
~/Library/Logs/
~/Library/Preferences/
~/Library/Saved Application State/
Step 4: Open Trash in the Dock> right click on Jamf Pro > click Empty Trash. And then Restart your Mac.
Method 2: Uninstall Jamf Pro Self Service in Osx Uninstaller
Step 1: Launch Osx Uninstaller if you've activated on your Mac. Select the Jamf Pro Self Service application on the right-side of the Step 1 page. Or search to locate Jamf Pro Self Service quickly. Then click Run Analysis or click the Delete icon.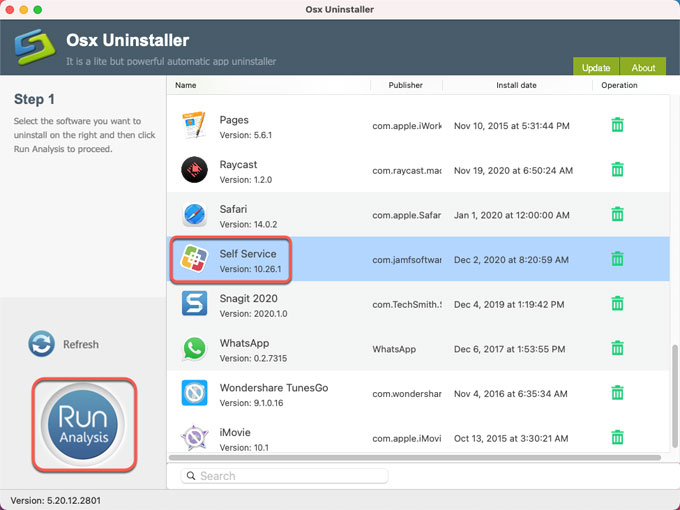 Step 2: Click Complete Uninstall > click Yes to make sure you want to uninstall Jamf Pro now.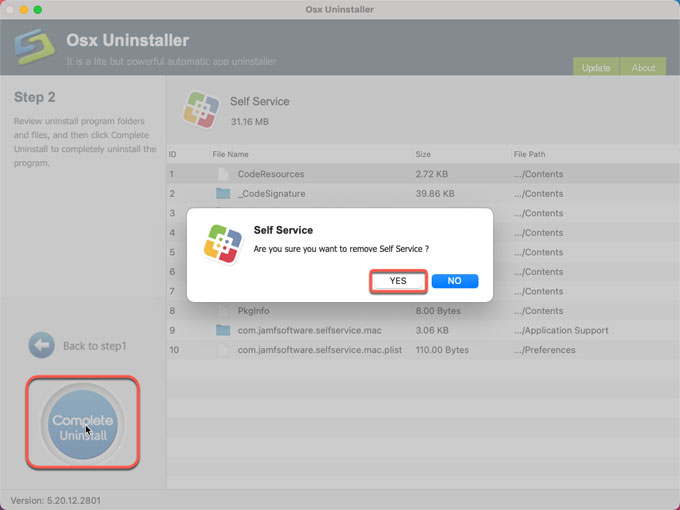 Step 3: The Osx Uninstaller tool will automatically delete all leftover files for you. Once done, Restart your Mac.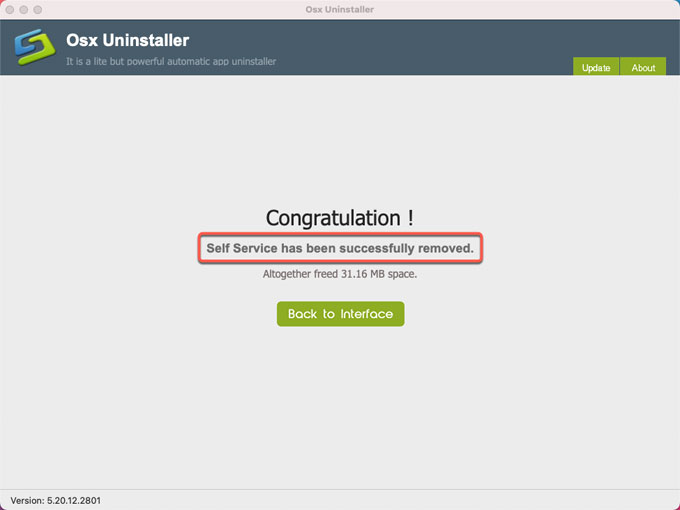 Conclusion
So by the end of this guide, you must have understood how to uninstall Jamf Pro and its associated files for Mac thoroughly. If you want to try Osx Uninstaller immediately, click the button below to download it to your Mac in no time.