Welcome to Disk Drill removal guide! In the guide, you will gain a clear understanding of methods to Uninstall Disk Drill for Mac? Both manual and automatic removal will be discussed. You will know how to uninstall any undesired applications from Mac OS X cleanly. In order to make this removal more effortless, we carefully concluded 2 methods for you.
Warm Tips: If you are looking to get rid of Disk Drill just in a few of clicks, we recommend you use a professional uninstaller tool to help you get it figured out. You can download the professional Osx Uninstaller tool by clicking the following button.

Disk Drill Overview
Disk Drill is a top-rated data recovery app created by Cleverfiles, which can be used to restore the damaged data and files and mistakenly deleted folders. Disk Drill can use many kinds of recovery methods to help users to restore any files and folders, and even can help to rebuild a great number of file formats more than 200.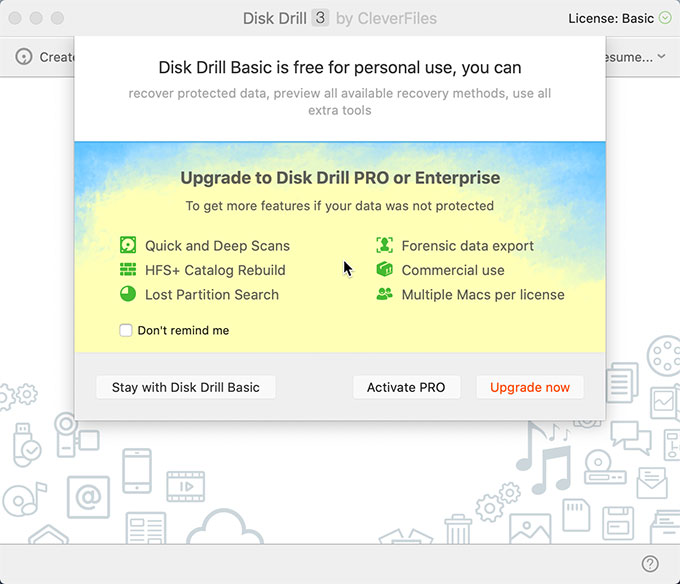 Disk Drill supports all major devices, which allows users to connect with storage devices and restore data in minutes. Disk Drill also supports the recovery service for iOS and Android devices. Along with that, Disk Drill provides the very convenient disk utilities for all data professional and home users.
In addition, for those IT professionals who can use their own preferred methods to customize the recovery process. If possible, Disk Drill will restore the deleted data for them.
How to Uninstall Disk Drill in Mac OS X?
The uninstall Disk Drill assumes that you don't want it anymore or want to install its latest version. We have 2 methods here, you can choose to remove it through manual guides or a professional uninstaller tool. Let's get started with the manual guides at first now.
Method One: Remove Disk Drill to Trash Manually
1.To make sure the Disk Drill removal, you need to quit it in the Dock and stop all background processes relevant with it. To get this done, open Finder> select Applications> select Utilities> double click Activity Monitor to open it.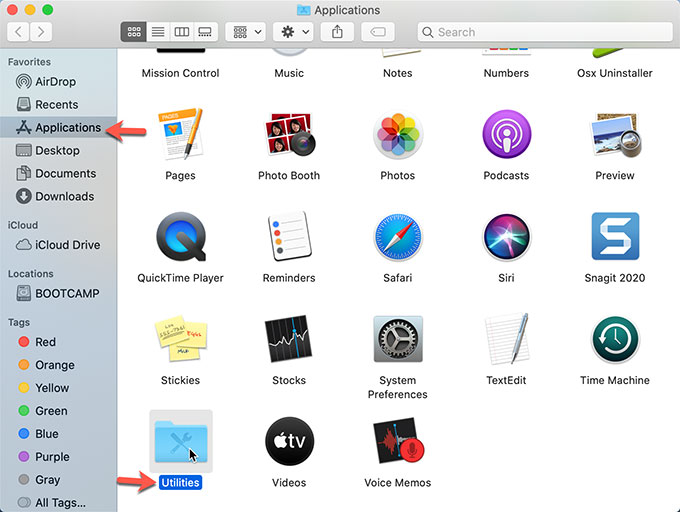 2.In the Activity Monitor, highlight CPU tab> choose Disk Drill> click (X)button> click Quit to close the application.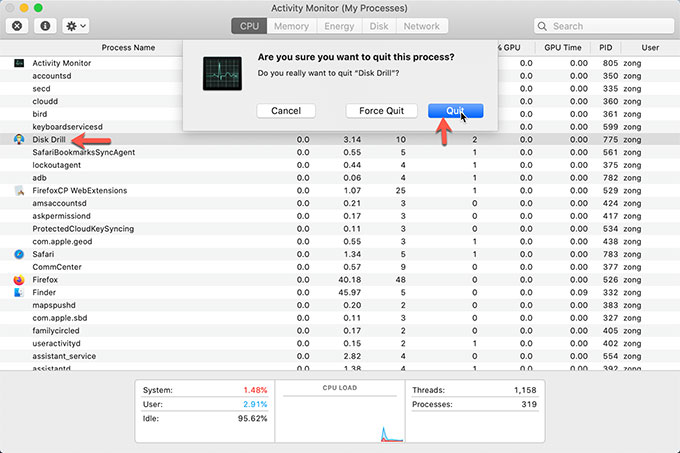 3.Click Finder in the Dock> select Applications> choose the Disk Drill app> right click on it to Move to Trash.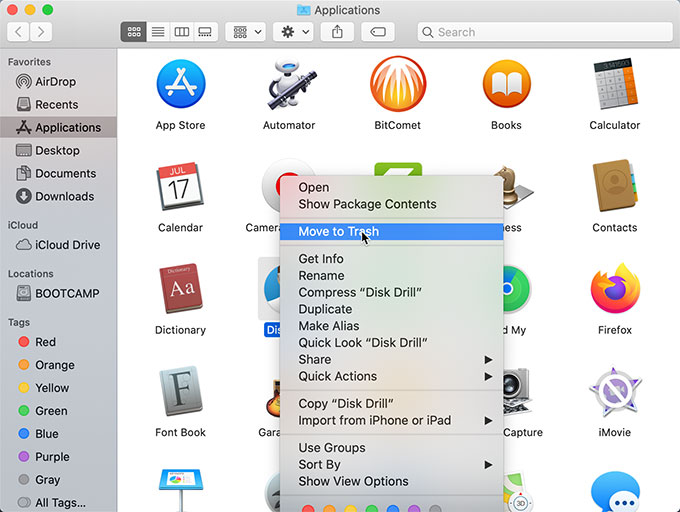 4.Open Trash in the Dock> right click on Disk Drill> select Empty Trash.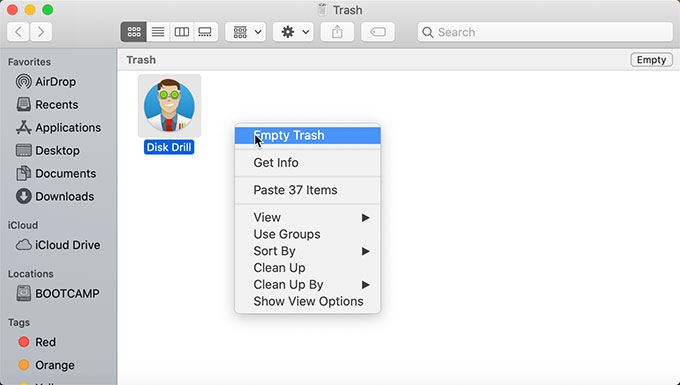 Please note: The manual removal method doesn't guarantee a complete removal of all files and entries relevant with Disk Drill. You still need to access to the Disk Drill install directory to clean up junk files. This way is better for those IT professionals or Mac users who have rich experience with managing system files and entries.
So if you are not confident in getting rid of Disk Drill left-over files by yourself, we suggest you try the second method. The professional Osx Uninstaller tool will help you solve all that issues.
Method Two: Uninstall Disk Drill with Osx Uninstaller Tool
Launch Osx Uninstaller through Finder or in the Dock. You will see the Step 1 page. At the right side of the same page opposite to Step 1, you can see all installed Applications there. If not, you can search to obtain it.
1.Choose Disk Drill> click Run Analysis. The program will automatically collect the Disk Drill related folders and files, this just may take a few of seconds.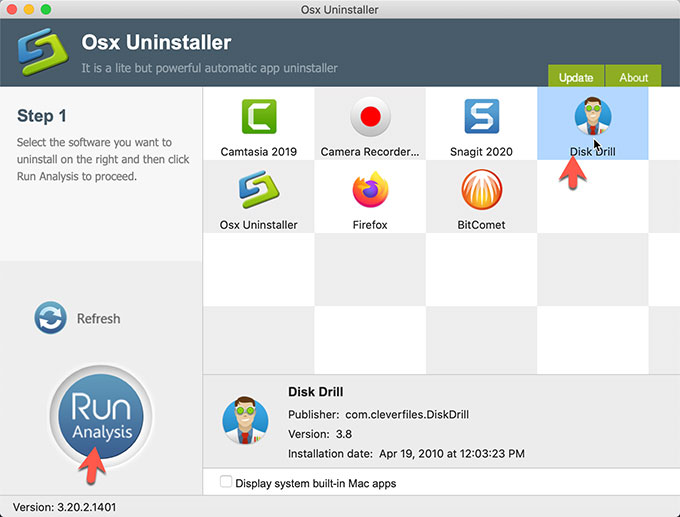 2.Click Complete Uninstall> click Yes to confirm this removal.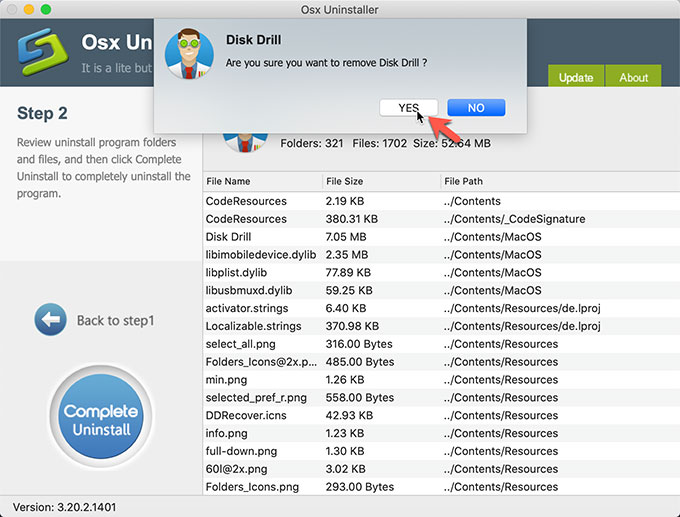 3.Once done, you will see the prompt that Disk Drill has been successfully removed.
Refer to a video guide on how to use Osx Uninstaller to uninstall Disk Drill here.
Why Use Osx Uninstaller to Uninstall Disk Drill?
Osx Uninstaller, is built around helping Mac users get an easy and safe way to uninstall damaged or any unwanted applications, the guide goes through step by step what you need to do to uninstall an application. This program focuses on the easy-to-use principle in order to convenient every user, no matter whether you are a complete newbie or an experienced Mac user. If you have signed up to this program I strongly advise you to use it to uninstall Disk Drill if needed, and you just need a few of clicks to clean up the Disk Drill application from your Mac computers easily.
Target audience of Osx Uninstaller:
Osx Uninstaller is perfect for anyone who wishes to remove unwanted apps safely and completely.
Osx Uninstaller is for you if you are looking a method to uninstall Disk Drill comfortably
Osx Uninstaller is for you if you want to be able to remove any application from Macs
Osx Uninstaller is for you if you want to swipe out all junk files without any technical skills requirement
Osx Uninstaller is for you if you are facing some further issues relevant with applications removal
Osx Uninstaller is for you if you are a Mac newbie and confused about deleting any applications in person
Conclusion
This post is aimed at anyone who wishes to know how to uninstall Disk Drill in Mac computers. After viewing this post you will be able to manage and remove Disk Drill left files and entries with Osx Uninstaller. I really hope you enjoy this guide and get the help you need from it. If you are willing to download the Osx Uninstaller software right away, we suggest you click the below button to get it directly.