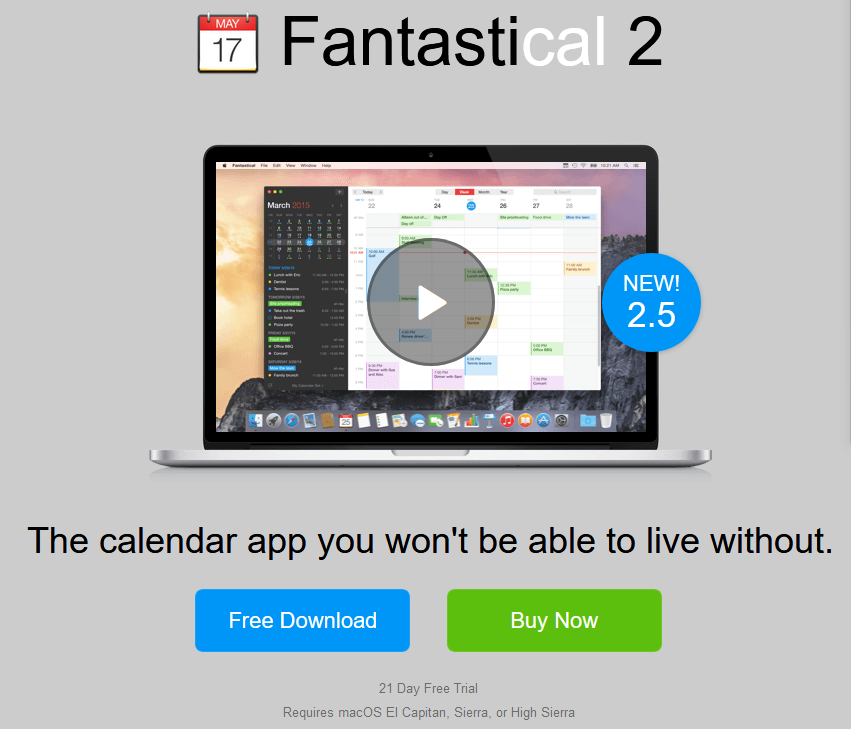 Fantastical 2 is a popular calendar and reminder app developed by Flexibits and available for macOS and iOS platforms. This app provides 21-day free trial if you are interested in trying out, and it requires your Mac to run macOS El Capitan or later.
On 18th July the vendor announced the next major update of Fantastical 2.5, which brings a number of features as well as a host of bug fix and improvements. Fantastical 2.5 for Mac adds the integration with the even scheduling service Meetup.com, the ability to propose new times for events from the calendar app, and much more.
Here are some highlights added in version 2.5.1:
Support for Meetup.com: Add your Meetup account to Fantastical to view and attend your meetups
Added support for sending and receiving new time proposals on Exchange, iCloud, Google, and other CalDAV accounts
Added support for sending Exchange invitations that don't require responses from invitees
Added option to show timed events that span more than one day in the all-day section of the Day or Week views
Timed events that span more than one day will show their start and end times in the Month view (space permitting)
The mini window can now be placed in Split View full screen with other apps
Added option to show current calendar week in Dock icon or menu bar icon
Added URL handler to change calendar sets (x-fantastical://show/set?name=My Calendar Set)
Added ability to enable or disable multiple calendars at once when editing calendar sets by selecting multiple rows
Pressing the option key while editing the start time of an event will keep the end time the same
Selecting an event in Day or Week view and pressing control-option-up/down arrow adjusts the start time of the event and pressing control-shift-up/down arrow adjusts the end time
Using a mouse with a scroll wheel to scroll the Month view will now feel more natural
Improved labeling of Exchange invitations where the organizer didn't request a response
Improved labeling of custom anniversary dates from Contacts
Improved performance loading subscriptions with hundreds or thousands of events
Fixed an issue where dragging from OmniFocus wouldn't be shown at the correct time in Day or Week view
In Fantastical 2.5, you can add your Meetup account to the Preferences > Accounts, and then you can view and respond to your Meetup event directly from this app. If you want to propose a new time for an invitation, you can click the Propose button in the event and arrange a new time to the organizer. The organizer can choose to accept or decline the suggested changes directly if he or she also has a copy of Fantastical.
This update is free for existing Fantastical 2 users. New customers need to pay $49.99 for the Fantastical 2.5 app through the Mac App Store or from the Flexibits Store site. An iPhone version is available for $4.99, while the iPad version is priced at $9.99.
To install Fantastical 2.5 via Mac App Store, launch the App Store app on your Mac, type Fantastical in the search box, then click the button next to the Fantastical app icon, and complete the purchase to allow the installation. The older version of Fantastical will be updated to the latest version if you have installed this app.
If your Fantastical app is expired and you don't want to renew your subscription, you may consider to uninstall Fantastical from your Mac. Related tutorial is listed here.