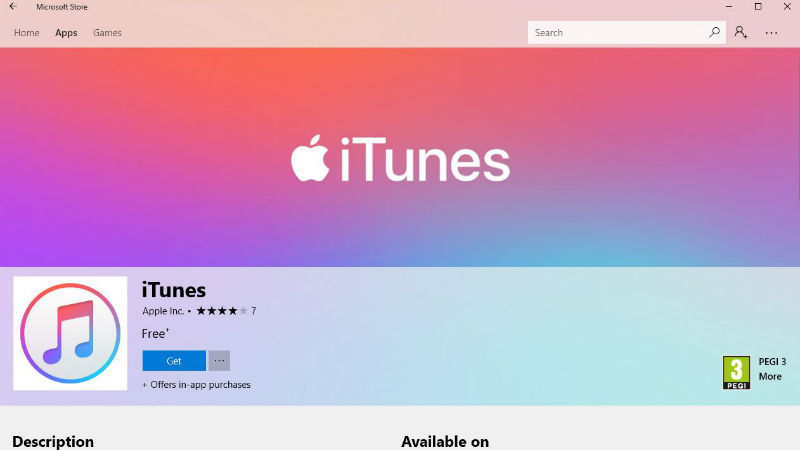 Here's a good news for users who are using iPhones and Windows S devices: iTunes for Windows app has been available to download and install on Windows Store.
On last Thursday Apple released its iTunes for Windows 10 on the Windows Store, to bring official compatibility with the latest Windows 10 S devices. Previously, iTunes for Windows could be downloaded only as a standalone program. Windows 10 users can now download the native version of iTunes directly from the Microsoft Store.
Mainly aiming at the educational market, Windows S hardware by default installs a stripped down version of Windows that can only run software downloaded through Microsoft Store. If you are a Windows S users, you can finally install iTunes on your device and sync your music in your iTunes account to your Windows S computer.
During the Build 2017 developer conferences held in last May, Microsoft announced that there would be more UPW programs available on Microsoft Store, among which iTunes is the program that attract most attention. The iTunes for Windows 10 was originally planned to roll out on the Windows Store at the end of 2017, but in December Apple delayed the release, claiming that it needed "a little more time" to deliver the full iTunes experience to its customers. At that time the company did not further give a concrete release timeline for the Windows Store version of iTunes.
iTunes for Windows is the first program that Apple developed for Windows 10 operating system. The Windows Store version has the nearly same user interface and features with the standalone version. It is a 64-bit app (about 478 MB) that supportx86 or x64 architecture and require Windows 10 version 16299.0 or higher.
To get iTunes for Windows, you need to firstly sign in to your Microsoft account on your PC, then search for iTunes on Microsoft Store, and click the Get This App button to start the download and install. Any older version you installed through Apple's website will be replaced during the installation process with the new one. You don't have to uninstall the app, transfer your music library, migrate setting or data, or anything like that. Besides, any future update for this version will be automatically installed, and that means you will not be nagged by the future update notifications.
If you fail to install or update iTunes for Windows, see the Apple Support page.
Update: some users reported that they have difficulties in using the Microsoft Store version of iTunes on PC to recognize or sync files to their iOS devices, and some believe that the Windows Store version was simply converted by the existing version. What trouble(s) do you have when using iTunes? Is it good to use on Windows S?