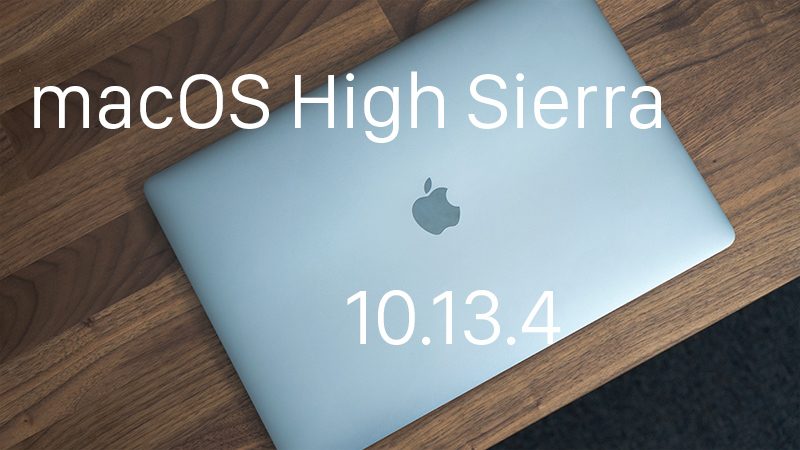 On March 29 Apple rolled out the macOS High Sierra 10.13.4 update for compatible Mac computers. The new version is said to improve the stability, performance, and security of your Mac, and all users are recommended to install the software update.
Here is the changelog of macOS High Sierra 10.13.4:
Adds support for Business Chat conversations in Messages in the U.S.
Adds support for external graphics processors (eGPUs)
Fixes graphics corruption issues affecting certain apps on iMac Pro
Allows jumping to the right-most open tab using Command+9 in Safari
Enables sorting Safari bookmarks by name or URL by right clicking and choosing 'Sort By…'
Fixes an issue that may prevent web link previews from appearing in Messages
Helps protect privacy by only AutoFilling usernames and passwords after selecting them in a web form field in Safari
Displays warnings in the Safari Smart Search Field when interacting with password or credit card forms on non-encrypted web pages
Displays privacy icons and links to explain how your data will be used and protected when Apple features ask to use your personal information
To get the update for your Mac, open up App Store and check for available software updates in Updates tab. Click Update button to start the download and installation.
For game lovers, the most significant feature introduced in macOS 10.13.4 could be the native support for external graphics processor (eGPU) on Thunderbolt 3-equipped Macs. Apple promised to enhance the ability last year at WWDC 2017. Currently there's a limited list of supported configurations, and Apple warmed that eGPUs are supported on MacBook Pro notebooks released in 2016 and later, iMacs launched in 2017 and later, and iMac Pro. Here are some recommended graphics cards:
AMD Radeon RX 570
AMD Radeon RX 580
Radeon Pro WX 7100
AMD Radeon RX Vega 56
AMD Radeon RX Vega 64
Vega Frontier Edition Air
Radeon Pro WX 9100
Apart from improving users' game experience, an eGPU can give your Mac additional graphics performance for professional applications, 3D gaming, VR content creation, and more. But note that not all apps support eGPU acceleration.
Along with the release of macOS 10.13.4, the company also pushed out the Security Update 2018-002 Sierra for macOS Sierra 10.12 users, and Security Update 2018-002 El Capitan for macOS El Capitan 10.11 users. These two updates are exclusive for security patches, and 34 known vulnerabilities are addressed in the recent updates.
Meanwhile, iPhone and iPad users can upgrade their devices to iOS 11.3.