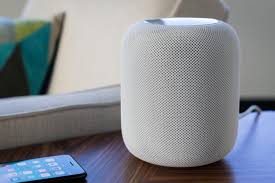 When you initially set up your new HomePod, you need to pair an iOS device with the HomePod so that it can pull the Apple Music library from the cloud. But how to reset the smart speaker and change the Apple Music account connected to it?
If your HomePod is not responding for somehow, simple unplug it from the power and then plug it back to fix the issue. If the speaker is still not working after a restart, you may need to reset HomePod and sign in to your Apple ID again.
To reset your HomePod to its factory settings, two options are available to choose:
>> Use the Home app in iOS device
Open the Home app in your iOS device that has paired with HomePod (the device should be signed in with the Apple ID that you used to set up your HomePod).
Press and hold on the HomePod icon that appears on the screen, and tap "Details".
 Scroll to the bottom and then click the "Remove Accessory" button.
>> Press the touch pane of HomePod
Unplug HomePod, wait for at least 5 seconds, and plug it back in.
Touch your finger to the top touch pane of HomePod and hold it there.
After the white spinning light turns red, Siri will say that your HomePod is about to reset. And when you hear three beeps, you can lift your finger.
Once your HomePod resets, you will need to set it up with a new device and Apple ID. The automatic prompt will pop up on your iPhone or iPad near the HomePod.
If you just want to switch the Apple Music account affiliated with your HomePod, you can use the Home app from your iOS device paired with the HomePod.
Tap to launch the Home app on your device running iOS 11.2.5 or later.
Touch and hold your HomePod icon in the Home or Rooms tab.
Tab the "Details" in the lower-right corner of the screen.
Tap the "Account" under Music & Podcasts heading, and then tap "Sign Out".
Tap the link "Sign in Using a Different Apple ID".
Type in the account and password you want to use in your HomePod.
Tap the "Sign" In button, and then you may be asked to enter a Two Factory Authentication code as a push notification on your trusted device.
Go back to the previous screen and tap the "Done" to save the change.
Tap "Sign In" in step 5 if you want your HomePod to access your Apple Music subscription using the Apple ID that is currently signed in to your iOS device.
Related link: Set up and use HomePod