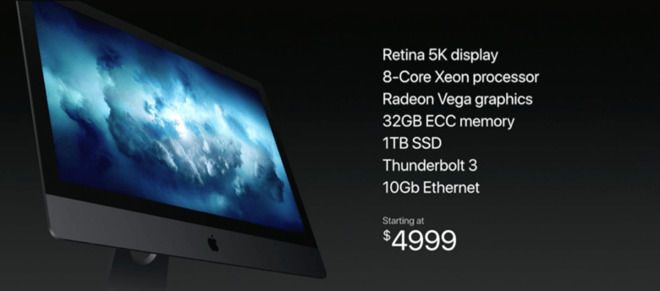 Update: the company just comfirmed that iMac Pro will be on sale on December 14.
Apple has been devising high-performance version of its Mac line. The tech giant announced the new iMac Pro at the WWDC event in June, which is expected to ship before the end of the year. Now with the delay of HomePod and less than three weeks in this year, iMac Pro becomes the last highly anticipated hardware of 2017.
iMac Pro feature a 5K display, Vega 56 or 64 Graphics, up to 18-core Xeon processors, up to 4TB of SSD storage, and will start at $4,999 when it ships. According to the latest reports, the next-gen desktop computer may be released before Christmas.
Last week a Google search listing suggests that the iMac Pro will arrive on December 18. However chances are that Google's search bots may have read the number 18 from iMac Pro's 18-core Intel Xeon processor and assumed that it will be out on Dec. 18.
Later a European regulatory filing was found to list an Apple model number A1862 as a Mac desktop computer with macOS 10.13 installed. The filing date was November 23. This device, which is speculated to be Apple's iMac Pro, has just obtained its marketing authorization from the Eurasian Economic Commission.
AppleInsider also reported that "enterprise sales staff within Apple have begun asking long-time clients about what custom configurations of the iMac Pro that they may seek, and are making preparations to take orders for the device as soon as this week". According to the report, salesmen have emailed "reliable, high-volume customers" to ask about their requirements for device configurations like storage, RAM, GPU and peripheral, and in return the customers will get a rough price for the requests.
Apple has not yet specified the release details. Currently there is no hint that Apple will postpone the launch (a few weeks ago it said the HomePod will miss the 2017 launch but did not mention about iMac Pro). If the speculation is true, Apple should be getting ready to start selling the new product in stores, or at least take orders for it.