On Monday in a blog post Amazon announced its new Sumerian, a browser-based platform that provides tools and resources for third-party developers to create and run augmented reality (AR), virtual reality (VR), and 3D applications with ease.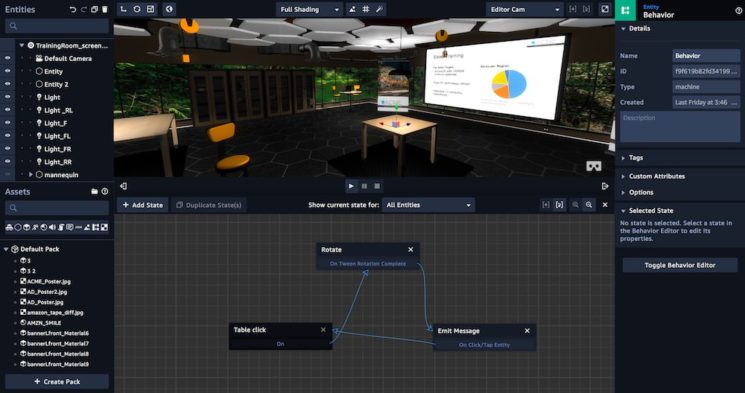 Built on AWS, the toolkit works in any browser that supports WebGL or WebVR. Developers can build highly immersive and interactive scenes that run on popular hardware such as Oculus Rift, HTC Vive, and iOS mobile devices. The service is currently in preview. It comes with built-in launch support for Apple's ARKit framework in iOS 11. The support for ARCore on Android devices are coming soon.
According to Amazon's blog, Sumerian does not requires its users to have 3D graphics or programming experience to build rich, interactive VR and AR scenes. You can create, edit, and publish apps with a web browser using the Sumerian editor.
Some features in the Sumerian Dashboard include a web-based editor, a library of objects and templates, a JavaScript scripting library, AWS Services Integration, and abilities to uploading 3D assets in scene and building lifelike 3D characters. Sumerian supports importing FBX and OBJ format 3D asset files, with support for Unity projects coming soon. Developers can create an animated, digital character and design its appearance, speech and behavior. To edit a scene, you can choose the background for the scene, add objects and script the logic that controls an object's behavior.
After the designing (which may take only a few minutes), you can publish the scene, and it will be stored in the cloud with a unique URL to future access. The scene can be run on a VR/AR or mobile device using a browser that supports WebVR.
As for the pricing, Amazon said that there is no charge to use Sumerian during the Preview. If you have an account in the AWS Free Tier, you can create 50MB published scene that receives 100 views per month for free, for the first 12 months.
"With Amazon Sumerian, there is no charge to design and edit your augmented reality (AR) and virtual reality (VR) applications. Instead, you are charged based on the amount of storage used for the 3D assets you store in Sumerian and the volume of traffic generated by your scene. You also pay for the costs of any other AWS services, like Amazon Lex and Amazon Polly, that your Sumerian Host uses. "
To start your VR, AR, 3D experiences with Sumerian, or learn more about Amazon Sumerian, you can click here to sign up for the preview on the product page.