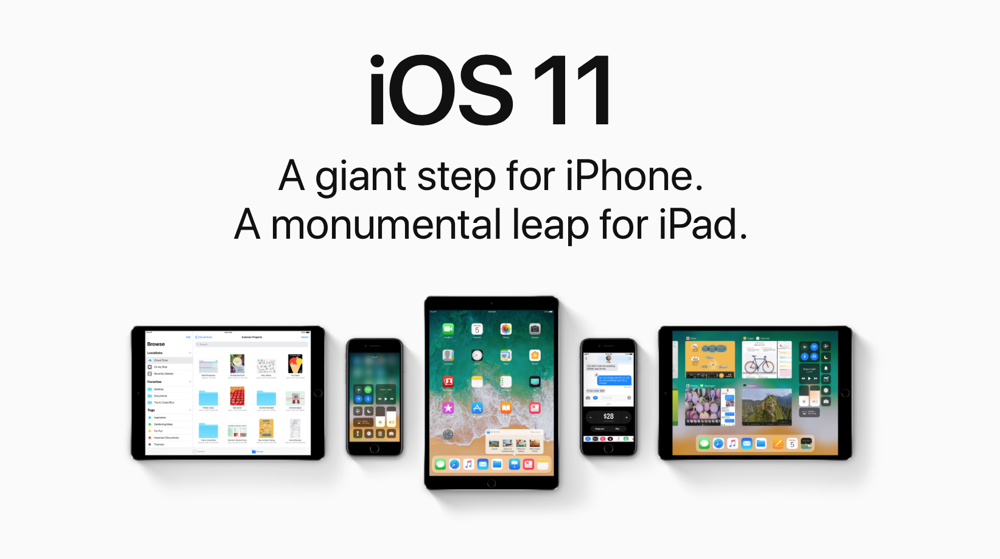 At the release conference held on September 12, Apple announced that iOS will officially release on September 19. On the whole, iOS 11 is a major update that includes improvements in aspects of UI, system kernel, screen lock and so on.
Apple did not provide a specific time, but when the update is available, you are likely to receive a notification on your iOS device, and it is time to download and install the new version of iOS. Before installing the iOS 11, you'd better connect your iPhone on WI-Fi and to power so that the process of downloading large file won't be affected.
The compatible iPhone models supporting iOS 11 includes iPhone 7, iPhone 7 Plus, iPhone 6s, iPhone 6s Plus, iPhone 6, iPhone 6 Plus, iPhone SE and iPhone 5s.
The Control Center has been totally redesigned in iOS 11. Except for a few permanent buttons, you can add or remove shortcuts you don't use in Control Center. To customize Control Center, open Settings app, and tap Control Center > Customize Controls. From the list of available options you can tap on the green plus button to add an option, or tap on the red minus icon to remove the option from Control Center.
With iOS 11, iPad can be more powerful and efficient to use. The new Dock offers shortcut for favorite and frequently-used app and documents from any screen, and the all-new Files app provide a central place to organize files on iPad or in the cloud.
Meanwhile, iOS 11 adds native GIF support, which allows users to view the animations of GIF images in Photos. A dedicated album called Animated is used to store the GIFs you save, and only one tap you can view them full-size and in motion.
To know more changes in iOS 11, see this page: iOS 11 is available tomorrow
Yet, today Apple confirmed that the new person-to-person money transfer feature has been removed from the official version of iOS 11. The Apple Pay Cash service will be coming this fall, Apple added. It is not the only major feature missed in the upcoming releases of Apple OSs. The much anticipated integration of Apple Music with the LTE Apple Watch will not come until at least October, and the External GPU support that has been pulled out from macOS High Sierra is planned to roll out til spring 2018.
The iPhone 8 and iPhone 8 Plus have been ready for pre-order now and the sales of all new iPhone X will be available in October. What do you expect most?