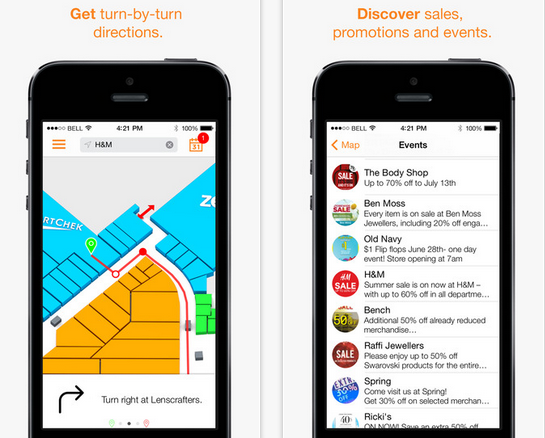 Online mapping startup Mappedin has an advanced indoor mapping SaaS platform, and it is working on indoor maps in large-scale buildings like Airport and shopping mall. Recently Mappedin announced that it will collaborate with Apple Maps to provide indoor mapping services for Apple Maps users in select malls across the U.S.
At the WWDC 2017 event held on last Monday, Apple announced the next generation of iOS operating system with new features and improvements. With the official release of iOS 11 in this fall, Apple Maps is said to be enhanced to provide detailed maps of hundreds of major airports and shopping centers around the world. Apart from the indoor mapping, iOS 11 also enhances the mapping features for vehicle drivers. Apple Maps will display available driving routes in the navigate to help users avoid missing some corners or exits, and also show the speed limit on the route.
Some premium malls, as Simon Property Group, rely on the latest, high-quality data provided by Mappedin to allow their customers to browser the indoor layout and seamlessly navigate to desired locations with the ease and accuracy like outdoor maps. In the upcoming iOS 11, the mapping updates made on the Mappedin platform will be synced to the Apple Maps to keep the mall mapping data precise and up-to-date.
"The ability for shoppers to navigate a mall within Apple Maps is a testament to not only the evolution of the physical shopping experience, but also Apple's commitment to providing its customers with a digital-first experience wherever they are," said Hongwei Liu, co-founder and CEO of Mappedin. "We're excited to collaborate with Apple to redefine how shoppers navigate and interact with mall properties, and look forward to a future of seamless indoor navigation everywhere," he added.
Founded in Ontario, Canada, in 2011, Mappedin is a leading indoor mapping and search SaaS company that distinguishes itself by "solving for the indoor mapping workflow pain point with a functional SaaS product". The software platform displays 3D indoor maps to help users navigate venues and discover relevant information.
Mappedin is available on App Store and the installation requires iOS 7.0 or later.