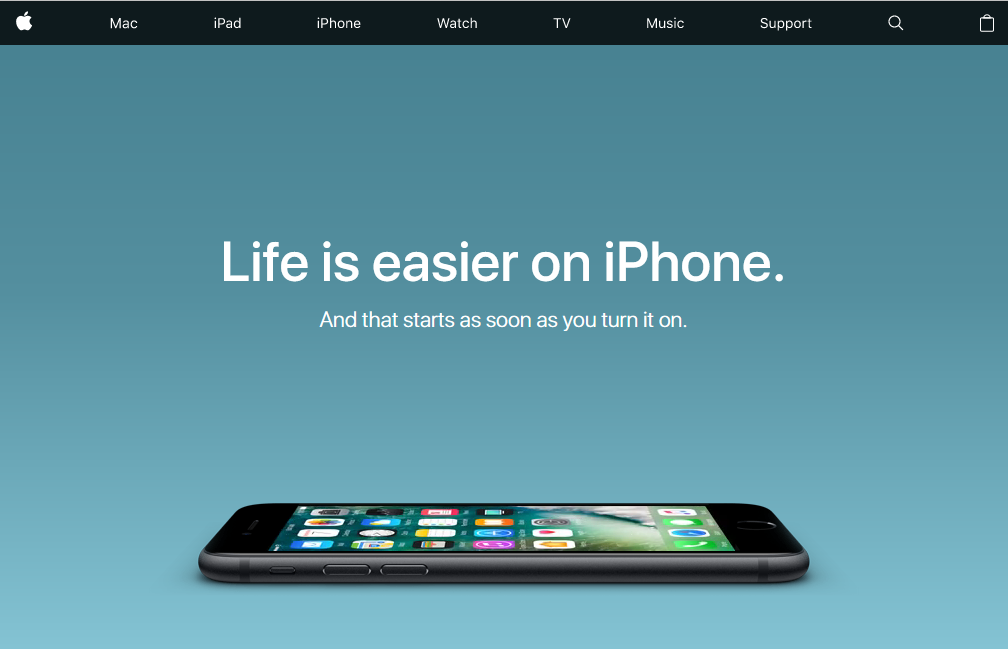 Apple recently launched a revamped 'Switch' page on its site, which emphasizes a slogan that "Life is easier on iPhone". The whole page provides details about how to switch to iOS and what to expect in iPhone, dedicated to lure Android users who plan or decide to make a switch to buy its iPhones running iOS operating system.
The new 'Switch from Android to iPhone' site replaces a previous page that featured the information on the Move to iOS app. According to the new page, Android users can download the Move to iOS app from the Google Play Store, and it will securely transfer the content from their Android phones to iPhone, including users' photos, videos, contacts, calendars, mail accounts, message history and even free apps.
The information also mentions that "you can trade in your old smartphone, if eligible, for credit toward your new iPhone". Anyone who buy a new iPhone can also go to Apple Store and ask the specialists there to help transfer content to the new device.
Subsequently, the page separately boast iPhone's camera, high-performance chip, ease of use, privacy protection, Messages app, technical assistance as well as satisfaction rates. The detailed information is planned to resolve Android users' concerns who are looking to switch to iOS. It explains in short paragraphs some questions like "Will iPhone be easy to use", "How does iPhone help protect my personal information", "What makes Messages so great", "Can I get help from a real person", etc.
Additionally, a related ad campaign has debuted as well. Five different videos grouped under the "Why Switch" moniker are available on Apple's YouTube account. The new 'Switch from Android to iPhone' alongside with the promotional videos aim at promoting switching to iPhone and highlight the performance of Apple's handsets.
Apple's smartphone sales continued to fall in the first quarter, and the company has taken many measures to boost the growth, like releasing some antique models. However, according to many tech media's reviews, there is no fundamental different between iPhone and some flagship Android smartphones, in terms of the hardware's performance, configurations and functions. Therefore, doubts remain on whether Apple's marketing measures could help attract Android users to make the switch.
The global smartphone OS market has been dominated by Google android and apple's iOS. The latter often criticizes the issues of fragmentization and security in Android OS. Yet, according to research institutions' data, the share of the android OS has been expanded while apple's share is shrinking. The most fundamental reason for this phenomenon lies in the high price of Apple's smartphones. Compared with Android smartphones, fewer people can afford iPhone, especially in developing countries.