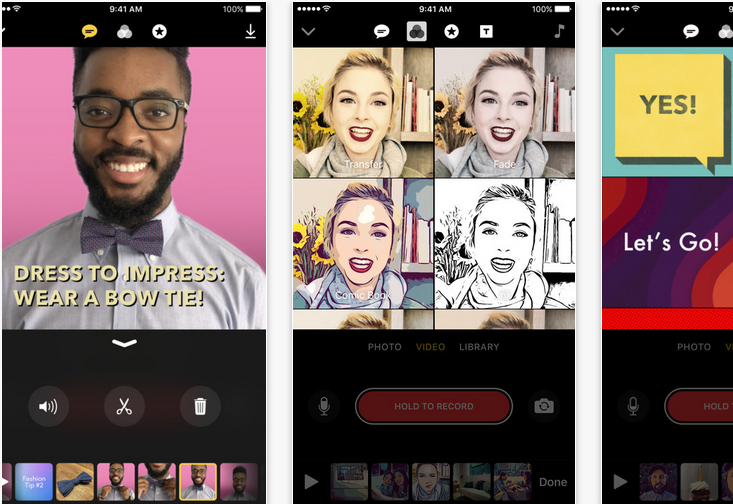 Apple recently launched a new video editing app labeled Clips. This free app designed for iOS devices can be seen as a mix of Snapchat and iMovie. It allows users to easily and quickly edit and share photos and videos with special filters and effects.
After launching Clips app, you can capture a new video/photo or import existing ones, and then combine several video clips, images, and photos with voice-based titles, music, filters, and graphics to create enhanced videos that are up to an hour in length.
The Live Titles is the core feature built in Clips. Your voice can be automatically transcribed into text on the screen. To do this you need to press on the speech bubble on the black bar, select one capture type, then hold down the red record button and speak to your device. The transcribed text can be altered into different display styles.
Like Instagram, Snapchat or Prisma, Clips offer some filters, effects, emoji, and animated graphics that you can lay over your image or video before sending it to your friends. Meanwhile, music tracks can be added from your library or built-in soundtracks to your video without affecting the audio you've recorded in the video.
Yet different from Snapchat or Instagram, Clips does not has its built-in social network. To share funny videos which are created by Clips, you have to rely on other social networks like Apple's built-in iMessage, Facebook, Instagram, YouTube, etc.
As an iOS exclusive app, Clips requires iOS 10.3 or later. It is compatible with products released in recent years like iPhone 5, iPad 4, iPad Mini 2 and newer ones.
Since its debut on Tuesday last week, Clips has been placed in featured banners on the homepage and the Photos & Video category page in App Stores. Once you launch App Stores, you will see it appearing in the first position on New Apps We Love list.
So far this video editing app has managed to hit between 800,000 and 1 million downloads in its four days on the App Store, according to estimates from app store analytics firm App Annie. The average reviews, given by the users that have downloaded Clips, is up to 4 stars. Most users seem to agree that the app has many fascinating features and also that its UI needs to be improved for better performance.
Have you tried Clips app yet? Just give it a try, and share your experience with us.