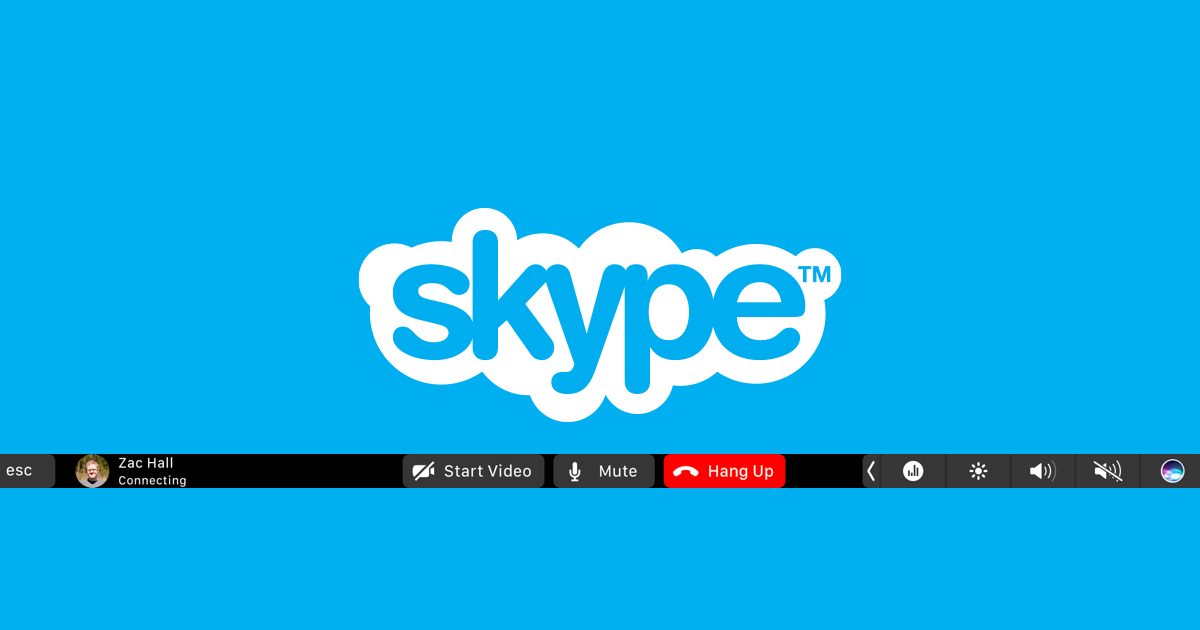 Have you thought of using Skype with additional functionality for your MacBook Pro's Touch Bar? If so, well, the idea has become reality in some degree. Microsoft recently updates its Skpye app for macOS to version 7.48. Now the video chat and voice call services add a new feature: in-call support for Touch Bar. In this update MacBook Pro with Touch Bar users can control their calls more easily.
Running the latest Skype requires your MacBook Pro to run Mac OS X 10.9 or later. So far the customized Touch Bar support for Skype is only available when users are on a call with someone. When you are connecting with your contacts, their names and profile pictures will be shown on the left side of Touch Bar, and the Start Video, Mute and Hang Up buttons are listed in bright red. Yet if you are navigating throughout the Skype interface, the Touch Bar simply displays the standard macOS controls.
Apart from adding the call controls on MacBook Pro's Touch Bar, this update of Skype also includes a handful of bug fixes that improves the overall experience. It is expected that Skype will add more functions for the Touch Bar on MacBook Pro.
Last month Microsoft updated its Office 2016 suite of apps for Mac with Touch Bar support, providing quick access to functions from the little dynamic display panel, and MacBook Pro users could integrate Touch Bar more into their daily workflows.
Since Apple introduced Touch Bar to the latest MacBook Pro last year, more and more 3rd party applications are joining to the camp, including Google's Chrome and Adobe's Photoshop. The Touch Bar at the top of the keyboard will adapt to what you are doing and offers you intuitive shortcuts and app controls when available. It is reported that the company behind Electron, the open-source software that many app developers rely on to make and tweak their apps, are rolling out a new beta which contains initial support for the macOS Touch Bar, and that enable indie developers to add Touch Bar funcitonality to their apps with the new Touch Bar API.
What do you think of MacBook Pro's Touch Bar? what else apps you know are supporting Touch Bar feature? Welcom to leave your comment or suggestion here.