macOS Sierra brings many new big features and small changes for Mac users. For instance, you can pin widgets to the Notification Center with Siri to keep track of interested information, and you can copy and paste content betwenn macOS and iOS . Today I would like to talk about the new Tab feature in Sierra.
Sierra supports tabs in many document-based apps including 3rd party ones. Multiple windows can be merged into a single tabbed window in those apps like the way in Safari and Finder. And developers don't need to update their software for it to work. Let's see how it works to make your workflow more seamless.
To make your Mac clutter free, you can easily group different windows together as tabs into one. First, open two or more windows for the same app. Then click "Window" in the menu bar, and choose "Merge All Windows". All your opened windows for that app will be gathered into one window with multiple tabs.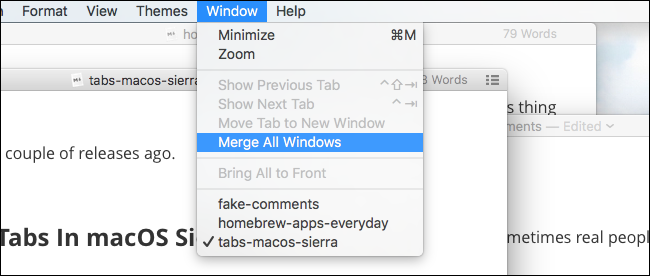 Like in Safari, you can switch tabs with a click, drag to rearrange them as you like, or click on the Plus button to the right of the last tab to create a new blank tab. To add a new tab, you can also use the Command + T keyboard shortcut, or click "File" > "New Tab'. To make one tab into a window, activate the tab, and select"Windows" > "Move Tab to New Window" (or click and drag the tab out of the current window).
Most of the pre-installed Mac apps work with the tabs, including Apple's iWork, Maps, Dictionary, TextEdit, etc. Preview, however, does not offer tabs. Then which 3rd party apps support the tabs feature? You can find out the answer by testing. Open the app you want to try, and if the "Merge All Windows" option is listed in the "Windows" menu, it means that app can work with tabs. Otherwise, the tabs are not available in this app.
I tested Microsoft Office and the result is a little frustrating: it does not support the native tabs in Sierra. That kind of apps that offer their own window management features dose not work with the "Merge All Windows" function. Have you tried to use the tabs feature in your favorite apps? Which apps you found don't support this feature? Welcome to share your idea with us in comment section.