Having Microsoft Remote Desktop client on your Mac? If you encounter problems when using this software, a clean uninstall and re-installation may help fix the issues. If you don't want to use it for personal reasons, a clean uninstall is also suggested to help keep your Mac clean. So, how to properly uninstall Microsoft Remote Desktop?
To be brief, you can uninstall Microsoft Remote Desktop for Mac by deleting it in Finder's /Applications folder, through Launchpad mechanism, or more conveniently, by utilizing a dedicated uninstall tool. Read through this post to get more details.
>> What to do before uninstalling Microsoft Remote Desktop?
Prior to the uninstall, you are supposed to check if the app has been shut down or not.
If Microsoft Remote Desktop icon appears in Dock, right click on it and choose Quit. Otherwise, the uninstall process will be interrupted by error message like that:
After quitting Microsoft Remote Desktop, pick one of the uninstall methods below.
Method 1. delete Microsoft Remote Desktop in /Applications folder
Generally speaking, the trash-to-delete way can be applied to uninstall any third party apps on current versions of macOS / Mac OS X. here are the steps you can follow:
Open up Finder from the Dock, and access to the Applications folder from sidebar (if it does not appear there, click the Go menu on the top bar and choose Applications)
Right click on Microsoft Remote Desktop, and then choose Move to Trash option
When prompted, type your password and click OK button to allow the deletion
Once throwing the app into Trash, you can choose to empty the Trash to permanently delete the app. But if there are other files in the Trash, we suggest you to only delete Microsoft Remote Desktop in the Trash. To do so, right click on its icon in Trash, choose Delete Immediately, and then click Delete button in the pop-up window.
Method 2. uninstall Microsoft Remote Desktop through Launchpad
Some users may install Microsoft Remote Desktop from the Mac App Store, and if you use the App Store version, you can turn to uninstall the app in the Launchpad.
Head to Launchpad from the Dock, through Spotlight, or by gesture shortcut
Locate Microsoft Remote Desktop, press and hold its icon until it starts to jiggle
Click the X icon on the upper left corner of the icon, and then click Delete button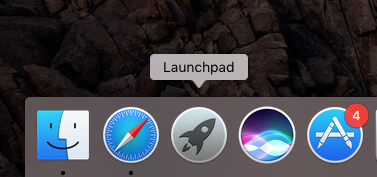 Once you click the Delete button, Microsoft Remote Desktop will be disappear instantly. To re-install it, you can still download this app in Mac App Store. If there is not X icon that shows up in the upper left corner of the app icon, it suggests that the app is not the Mac App Store version and thus cannot be uninstalled by this way.
>> What to do next after uninstalling Microsoft Remote Desktop?
Still have Microsoft Remote Desktop files on the system? How to make sure all its components are gone from your Mac? You can carry out a manual detection like that:
In a Finder window, click Go from the Menu Bar, and choose Go to Folder
Type ~/Library in the box and hit Enter key (or click Go button) to open it up
Type Microsoft Remote Desktop in the search bar, and click the Library below
Control-select the files and folders whose names contain the search keyword, then right-click on one of them, and choose Move to Trash to delete all those items
Type Microsoft.rdc in the search bar to continue deleting related items
After the deletion, don't rush to empty the Trash. Leave the files in Trash for a few days. If your Mac runs normally, you can consider to delete them permanently.
Best choice: utilize Osx Uninstaller to remove Microsoft Remote Desktop
Thinking about a better way to delete unwanted apps and remove the app traces in the meantime? In that sense an automatic uninstall tool could be more suitable for you. But which uninstall product can accomplish app removal tasks as you expect?
After we conduct a test on Osx Uninstaller by running it to uninstall Microsoft Remote Desktop, it is our answer to the question. To use it smoothly, you need to download and install it on your Mac, then launch it and complete the registration first.
Then you can take three simple steps to guarantee a clean, complete uninstall:
After the scanning, click the Complete Uninstall button to activate the uninstall

Click Yes button in the confirmation window to perform the final removal
Click Back to Interface button to re-scan your Mac, and then quit Osx Uninstaller
Still hesitate to give it a try? The tech team behind this product promises to provide 24/7 technical assistance via email, and also offers 60-days Money-Back policy.