How to properly uninstall/remove Scrivener if you don't want to use it any more? Simply remove it from the Applications folder? Will all its components go away after doing this step? If you have doubts about how to correctly uninstall a Mac app, read through this removal tutorial to get some useful tricks and remove Scrivener properly.
Scrivener is a professional writing software developed by Literature & Latte. The current version (3), which requires macOS 10.13 and later, is available to download in both the Mac App Store and its official site. The price for a valid license is $44.99.
There are multiple methods to uninstall an unwanted app on Mac. Now we would like to introduce a hassle-free and time-saving solution to help you get rid of Scrivener.
How to Easily & Totally Remove Scrivener on Mac
There are many uninstall tools that claim to solve users' uninstall troubles. If you think it is a good idea to uninstall various apps by taking several clicks, you should consider to make use of a professional, reliable uninstaller, like, Osx Uninstaller.
Here are the steps you will need to do when using Osx Uninstaller to delete apps:
Launch Osx Uninstaller after installing it on your Mac, and complete the registration
Select the target app (Scrivener) in the interface and then click Run Analysis button
After the scanning, click the Complete Uninstall button to activate the uninstall
Click Yes button in the confirmation window to perform the final removal
When you are informed that all the files have been removed, click Back to Interface button to re-scan your Mac for currently installed apps, and then quit Osx Uninstaller.
That's how you can easily remove Scrivener, without worrying if there is app traces left or any deletion risk during the procedure. Compared with the traditional uninstall method, using Osx Uninstaller is more efficient and safe to delete Mac apps.
Manually Uninstall Scrivener for Mac (Finder/Launchpad)
If you don't want to pay extra money for this tool, you can follow the traditional steps to uninstall Scrivener, and then go ahead with the manual deletion of app leftovers.
Generally, there are two buil-in ways of uninstalling apps on macOS / Mac OS X.
(1) uninstall Scrivener through the Finder
Open up Finder from the Dock, and access to the Applications folder from sidebar (if it does not appear there, click the Go menu on the top bar and choose Applications)
Right click on Scrivener, and then choose Move to Trash option
Open up Trash, right click Scrivener, and choose Delete Immediately
Click the Delete button in the poo-up confirmation dialog
If you are prompted that Scrivener cannot be moved to Trash because it is in use, make sure to shut down this app at first. To deactivate an running app, just right click on its icon in the Dock, and choose Quit (or Force Quit if it stops responding).
(2) Delete Scrivener via the Launchpad
Head to Launchpad from the Dock, through Spotlight, or by gesture shortcut
Locate Scrivener, then press and hold the app icon until it starts to jiggle
Click the X icon on the upper left corner of the icon, and then click Delete button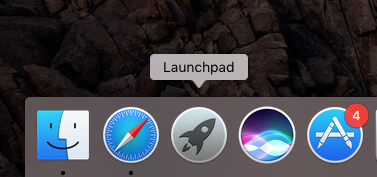 Note that this option only works on the condition that Scrivener is installed from the Mac App Store. If there is not X icon in the upper left corner of the app icon, this app is not the Mac App Store version and therefore it cannot be uninstalled by this option.
Extra work: detect and clean up Scrivener traces
Some users think that the uninstallation is complete after they delete the app from the system. But if you want to thoroughly remove all Scrivener traces, we suggest you to conduct a detection of app leftovers by utilizing the Search feature in the Finder.
In a Finder window, click Go from the Menu Bar, and choose Go to Folder
Type ~/Library in the box and hit Enter key (or click Go button) to open it up
Type Scrivener in the search bar, and click the Library below the bar
Select the files and folders whose names contain the search keyword, then right-click on one of them, and choose Move to Trash to delete all those items
Go ahead to carry out the detection (and deletion) in the /Library folder
After throwing Scrivener-related files and folders to the Trash, leave them there for a few days. If everything goes fine on your Mac, you can consider to empty the Trash.
Which method do you prefer to use for uninstalling Scrivener? Share your idea here.